Promotional Articles – Calendars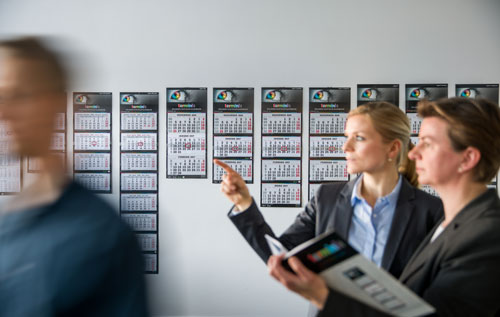 Always in Use: The advertising calendar as an indispensable companion
Everybody has one. Everybody needs one: Calendars are indispensable in our everyday lives. Both in the office as well as in our private lives – we define our world primarily by deadlines, data and notes. Thus, a calendar is an indispensable aid in our daily planning and organization of our lives of work and leisure. Therefore, it is no surprise, that calendars are especially popular with the recipients as well as with the advertisers and that they have been among the most popular promotional articles for years. The utilization of the calendar, an article in daily use, for advertising purposes achieves the best advertising recall: A business card for your company, which is looked at every day.
Persons
remember the advertising message
One glance speaks louder than 1,000 words: Calendars convince with unlimited advertising and branding possibilities
Using calendars as promotional articles presents you with a multitude of possibilities to ¬put your company and your products in the limelight and to access "all the senses" of your target groups. A calendar does not only communicate explicit signals, such as your company logo, but also a wide range of further visual stimuli, which you can perfectly use for your advertising message: Shape, colors, images, graphic design and typography of the back, title and the calendar table. Using these means will make your advertising calendar become an individual, unmistakable brand ambassador, which will be hanging in the field of vision of the user for 365 days.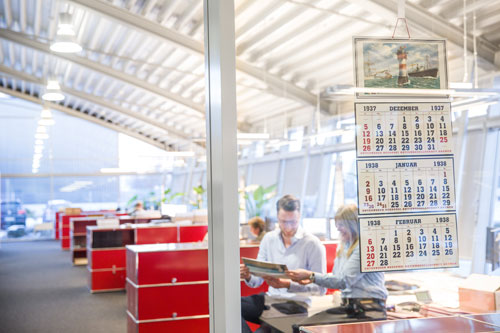 Touched a Thousand Times: A calendar personalizes and creates long-lasting customer loyalty
In 2016, the research unit of Burda, Media Market Insights, proved for the first time in a neurological study that people pay more attention to "touchable" advertising and that this type of advertising is emotional and remains even longer in the memory. The material, the processing, the type of paper used for the calendars – all that makes a lasting impression on the recipient of the calendar. Advertising calendars become haptic experiences by means of innovative refinement technics, such as embossed foil and lenticular printing, cold foil transfer including overprinting in the Euroscale. You could not wish for a more personal customer approach and efficient advertising location.